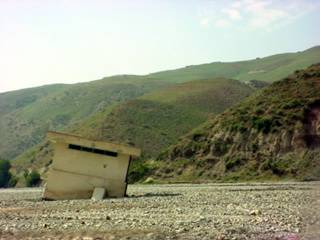 Convulsed.

"Death thus raged in every shape; and, as usually happens at such times, there was no length to which violence did not go; sons were killed by their fathers, and suppliants dragged from the altar or slain upon it; while some were even walled up in the temple of Dionysus and died there.
So bloody was the march of the revolution, and the impression which it made was the greater as it was one of the first to occur. Later on, one may say, the whole Hellenic world was convulsed;[…]
The sufferings which revolution entailed upon the cities were many and terrible, such as have occurred and always will occur, as long as the nature of mankind remains the same; though in a severer or milder form, and varying in their symptoms, according to the variety of the particular cases. In peace and prosperity, states and individuals have better sentiments, because they do not find themselves suddenly confronted with imperious necessities; but war takes away the easy supply of daily wants, and so proves a rough master, that brings most men's characters to a level with their fortunes."
Read more from the account of
Corcyrean Civil War as narrated by Thucydides
to get a better sense for for the consequences of the butchery of the wounded supplicants in temples.
Machiavelli's The Prince
is always full of sound advice--especially if one were to reflect upon the sections not normally highlighted by the ravenous blinded by concupiscence and bloodlust.
"XVII
Upon this a question arises: whether it be better to be loved than
feared or feared than loved? It may be answered that one should wish
to be both, but, because it is difficult to unite them in one person,
it is much safer to be feared than loved, when, of the two, either
must be dispensed with. [...]
Nevertheless a prince ought to inspire fear in such a way that, if he
does not win love, he avoids hatred; because he can endure very well
being feared whilst he is not hated, which will always be as long as
he abstains from the property of his citizens and subjects and from
their women.
XVIII
Therefore it is unnecessary for a prince to have all the good
qualities I have enumerated, but it is very necessary to appear to
have them. And I shall dare to say this also, that to have them and
always to observe them is injurious, and that to appear to have them
is useful; to appear merciful, faithful, humane, religious, upright,
and to be so
, [emphasis added] but with a mind so framed that should you
require not to be so, you may be able and know how to change to the opposite.
XIX
THAT ONE SHOULD AVOID BEING DESPISED AND HATED
Now, concerning the characteristics of which mention is made above, I
have spoken of the more important ones, the others I wish to discuss
briefly under this generality, that the prince must consider, as has
been in part said before, how to avoid those things which will make
him hated or contemptible; and as often as he shall have succeeded he
will have fulfilled his part, and he need not fear any danger in other
reproaches.
It makes him hated above all things, as I have said, to be rapacious,
and to be a violator of the property and women of his subjects, from
both of which he must abstain. And when neither their property nor
their honor is touched, the majority of men live content, and he has
only to contend with the ambition of a few, whom he can curb with ease
in many ways.[…]
For this reason I consider that a prince ought to reckon conspiracies
of little account when his people hold him in esteem; but when it is
hostile to him, and bears hatred towards him, he ought to fear
everything and everybody. And well-ordered states and wise princes
have taken every care not to drive the nobles to desperation, and to
keep the people satisfied and contented, for this is one of the most
important objects a prince can have."