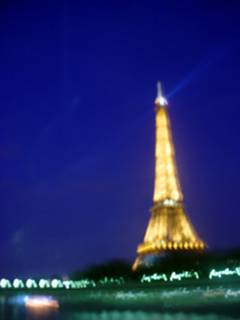 Another Francophile!

The authorities have been at it again.
Arresting more bloggers
and fiddling with ways of cutting communication at the arteries. Some IS providers have now begun filtering Netstat. Go figure. Is Blogspot next?
Can't help but to anxiously anticipate the prospect of being enveloped by that darkness looming in the horizon. Such is life I suppose. Just have to hurry up and write whatever I have been meaning to write as quickly as possible before the curtains fall.
This present equilibrium of power can't last much longer, I am thinking. There is a growing realization that the uncertainty about the future direction of our society is wreaking much needless havoc on our lives and must be settled one way or another soon. No escaping the conclusion.
Look, there is no reliable polling here. But even assuming 70% opposition to the noxious ones, for a country of 70 million, we are still left with roughly 21 million in the other camp. With money, connection and guns, and frankly the sort of people with far more to lose immediately than what the rest of us can gain as a result of any change.
And even those folk aren't all that happy with how things stand. I was chatting with a retired Revolutionary Guard commander recently and as far as he was concerned, the Almighty has withdrawn His blessings (barakat) from this country. A sentiment increasingly expressed point blank by the more pious supporters of this regime.
Something has got to give. But what? And in which direction will it all go?
But hey, at least
Marjane Satrapi is being productive
in France. An interesting older interview
here
. You can listen to a BBC woman's hour discussion
here
(last year). Much as I loath sycophants, I would transform into an unabashed one much quicker than you would bat an eye if she were to be our Queen. Sadly, I'll have to settle for being a groupie from afar. You've got to love the country that has offered this audacious soul a nurturing milieu.
Which gets me thinking: why is everyone bludgeoning the French? For a while, even certain circles in Iran were at it about the decision to ban hejab in the French schools. Naturally, of course, there is all that French bashing as well originating from
Mount Olympus
.
From where I am sitting, it can all get sort of discombobulating. The French, after all, can be very interesting in all sorts of different ways, I think. Compare for instance, the
flimsy bilge
one of the best and the brightest American conservatives has to offer with anything even a
petulant De Benoist
has to say.
I have been thinking about the French a lot lately. I have been brooding, as you might have noticed, a great deal over the alarm bells-- purportedly the harbingers of
the culture wars
and the invisible
enemy within
due to the presence of Arabs; not to mention, of course, all the accusations of financial improprieties and the corrupt profiteering, and the insidious insider deals and all.
So I have tired to remember why it all sounds so familiar.
Then I remembered a rant I had once encountered quoted in the work of the "orgasm guru,"
Wilhelm Reich
's the
Mass Psychology of Fascism
eons ago. I tried digging for it, but couldn't find the book and so I asked my friend
Mr. Limitedinc
to help locate it.
Luckily he obliged with
chapter and verse
. I am leaving the original German untouched for those who can read the language. Tweak with it slightly as you read to get a slightly more contemporary feel!
Reich quotes from a passage, I suppose in Mein Kampf, about the Rhineland, Die Massenpsychologie des Faschismus, Frankfurt 1974, S. 102-107
Das ist das Hakenkreuz erst sehr spät geworden. Und im ührigen besteht die Frage nach dem irrationalen Gehalt des Antisemitismus. Der irrationale Gehalt der Rassetheorie erklärt sich aus der Mißdeutung der natürlichen Sexualität, des 'Schmutzig- Sexuell-Sinnlichen'. Hier stehen der Jude und der Neger auf einer Stufe in der Vorstellung des Faschisten, des deutschen ebenso wie des amerikanischen. Der Rassekampf in Amerika gegen den Neger spielt sich überwiegend auf dem Boden der sexuellen Abwehr ab: Der Neger ist als das sinnliche Schwein aufgefaßt, das weiße Frauen vergewaltigt. Hitler schrieb über die farbige Besatzung des Rheinlandes:
"Nur in Frankreich besteht heute mehr denn je eine innige Übereinstimmung zwischen den Absichten der Börse, den sie tragenden Juden und den Wünschen einer chauvinistisch eingestellten nationalen Staatskunst. Allein gerade in dieser Tatsache liegt eine immense Gefahr für Deutschland. Gerade aus diesem Grunde ist und bleibt Frankreich der weitaus furchtbarste Feind. Dieses an sich immer mehr der Vernegerung anheimfallende Volk bedeutet in seiner Bindung an die Ziele der jüdischen Weltbeherrschung eine lauernde Gefahr für den Bestand der weißen Rasse Europa. Denn die Ver- [S. 105]pestung durch Negerblut am Rhein im Herzen Europas entspricht ebenso sehr der sadistisch-perversen Rachsucht dieses chauvinistischen Erbfeindes unseres Volkes, wie der eisigkalten Überlegung des Juden, auf diesem Wege die Bastardierung des europäischen Kontinents im Mittelpunkt zu beginnen und der weißen Rasse durch Identifizierung mit niederem Menschentum die Grundlagen zu einer selbstherrlichen Existenz zu entziehen." (l. c. S. 704-705).
The relevant part is, I guess: There exists in France alone, today, the inner correspondence between the intentions of the stock market, the Jews that own it and the wishes of a chauvinistically arranged art of the state. …Just for this reason, France is and remains the most fearful of our foes. This people, who are prey to an always increasing level of negrification (Vernegerung) signify, in their adherence to the goal of Jewish world domination a lurking danger for the status of the white race in Europe…"
From Mein Kampf:
And even France must be counted among these states. Not only that she complements her army to an ever-increasing degree from her enormous empire's reservoir of colored humanity, but racially as well, she is making such great progress in negrification that we can actually speak of an African state arising on European soil.
Ein Beispiel rassischen Niedergangs ist für Hitler das ihm auch sonst unsympathische Frankreich. Dieses macht nach Hitler "in seiner Vernegerung so rapide Fortschritte, daß man tatsächlich von einer Entstehung eines afrikanischen Staates auf europäischem Boden reden kann" (S. 730).
Which leaves
these bright charmers
in an odd sort of ( de-facto) alliance , don't you think?